Create a List
❶Give students ten minutes to search for the person who fits the description on the card they hold.
Receive timely lesson ideas and PD tips
While some of these projects require a sponsoring organization to set them up, others can take place between individual classes or among a small group of interested schools. Successfully Implementing Collaborative Projects. List Name Delete from selected List. Save Create a List. The Teacher Store Cart. Students and Class Projects Using the Internet. Grades 3—5 , 6—8. Students choose a subject they would like to learn more about and progress through the six skills. Students are asked to submit proof of all stages in the information literacy spectrum beginning with identifying the big picture task and ending with a product.
Students are provided with a list of Web sites that can help them complete their project. Remember to have students write down the Web sites they use to complete their project. Projects are supplemented with visits to specific Web sites that relate to the theme. For example, you may have an endangered animal theme in which you could ask students to choose an endangered animal to study and make a presentation about.
Setting a time line for completion of project: I provide students with a calendar and teach them how to use the due date as a starting point and then plan backwards.
We discuss that a rough draft should always be completed three to five days before the due date to give time for last minute changes and editing. I teach students the different editing symbols and have them practice editing their own work. Expectations for behavior when time is given in class for project work: Project time is a very quiet time in my classroom and we discuss that movement and talking need to be at a minimum.
The different resources of information available to students: I take a few days to discuss different information resources available for students. We discuss the Internet and tie in the discussion with information literacy skills. One of these days includes a trip to the library to review how to look up books, the different resource books available, and how to ask the librarian for help. How to present work creatively and neatly: Last, I talk to students about their final presentation.
We discuss neatness, spelling, and punctuation, making their project visually appealing, and having a professional look. I use examples of student work from years past to show positive and negative examples of final products. I also use a collection of brochures and posters from businesses and the media to show examples of professional final products. Identify what you want students to learn and be able to do through their collaborative project.
This includes identifying the end product and clearly articulating this to students. Create teams using heterogeneous groupings of students.
Change groups on a regular basis so that students have the opportunity to work with a wide range of individuals. Have each team choose a name to foster a team identity. Make sure teams understand their eventual goal and the time line for completion. Help team members identify their individual roles and responsibilities in order to reach their team goal. It is also helpful to have teams write down the different tasks that need to be addressed and in what order. Give teams time to work together, both on and off the Internet.
Some groups will need constant supervision, while others will enjoy the independence of working together. Have teams share their end product and what they learned in a presentation to the entire class.
Let teams "debrief" by discussing first as a team and then sharing their results with you or the class. Have teams reflect on their group interactions and how effectively they worked together. Let students write down what they observed as the team worked together. Did everyone do his or her job? The power of this type of reflection is that it brings group work into a more conscious light when team members realize they might be receiving indirect feedback from their teammates.
Back to top Class-to-Class Projects The Internet also provides wonderful opportunities for you to work with other classrooms and individuals throughout the world on a common project. Collaborative Project Types Electronic Correspondence: This type of project is the equivalent of pen pals and is one of the most common types of projects used in classrooms. These correspondences can be done on a student-to- student basis or as an entire group.
Visit the eMail Classroom Exchange site if you are interested in participating in or just want to learn about keypal projects. Data Collection and Analysis: Some projects ask participants to participate in the collection and analysis of data. Four programs that work! What accounts for their popularity? And how can you use --and create-- WebQuests in your own classroom? This week, Education World explores those questions and more. So you want to do a classroom project on-line?
Author and educator Judi Harris has strong opinions about what it takes to create a valuable on-line project and this week she shares her thoughts with Education World. Log On and Learn More: Ten On-Line Projects to Enhance Your Curriculum Looking for ways to introduce technology into your classroom without losing valuable teaching time? Education World has found ten terrific on-line projects to incorporate into your curriculum.
Bridging the Generation Gap with Technology An emotional meeting of senior citizens and their fourth-grade e-pals was the culminating event of a project initiated by teacher Jim Flack at North Elementary School in Lancaster, Ohio.
Comments from the kids and senior citizens! Searching for Treasure on the Internet! Internet scavenger hunts are a way for students to practice problem solving, improve their reading and comprehension skills, and learn how to search the Internet.
A sampling of online scavenger hunts for students of all ages! But Ross is a convert now! Join teacher Susan Silverman in the "Pumpkin Patch" this year. Getting involved is as easy as pie! When a field trip is out of the question, journey to a virtual museum!
Join Education World as we visit science, art, and history museums around the world. More than 1, FREE lessons. PD content to get you through the day. Download without a subscription. Receive timely lesson ideas and PD tips. Receive timely lesson ideas and PD tips Thank you for subscribing to the Educationworld. Classroom Problem Solver Dr. Projects Online Projects Are for Everyone: Trending Icebreakers Volume 5: Most fun of all, the opening days of school are an opportunity to get to know a whole new group of kids!
What will you do during those first few days of school? What activities might you do to help you get to know your new students? What activities will help students get to know you and one another? For the last three years, Education World has presented a new group of getting-to-know-you ideas -- or icebreakers -- for those first days of school.
Here are 19 ideas -- ideas tried and tested by Education World readers -- to help develop classroom camaraderie during the opening days of school. Opening-Day Letter Still looking for more ideas? Write a letter to your students. In that letter, introduce yourself to students.
In addition, tell students a few personal things about yourself; for example, your likes and dislikes, what you did over the summer, and your hobbies. Ask questions throughout the letter. You might ask what students like most about school, what they did during the summer, what their goals for the new school year are, or what they are really good at. In your letter, be sure to model the correct parts of a friendly letter! On the first day of school, display your letter on an overhead projector.
Then pass each student a sheet of nice stationery. Have the students write return letters to you. In this letter, they will need to answer some of your questions and tell you about themselves.
This is a great way to get to know each other in a personal way! Mail the letter to students before school starts, and enclose a sheet of stationery for kids to write you back. Each piece should have a matching piece of the same length. There should be enough pieces so that each student will have one. Then give each student one piece of string, and challenge each student to find the other student who has a string of the same length.
After students find their matches, they can take turns introducing themselves to one another. You can provide a list of questions to help students "break the ice," or students can come up with their own. You might extend the activity by having each student introduce his or her partner to the class. Give each student a slip of paper with the name of an animal on it. Then give students instructions for the activity: No talking is allowed.
The students might hesitate initially, but that hesitation soon gives way to a cacophony of sound as the kids moo, snort, and giggle their way into groups. The end result is that students have found their way into their homerooms or advisory groups for the school year, and the initial barriers to good teamwork have already been broken.
Hold a large ball of yarn. Start by telling the students something about yourself. Then roll the ball of yarn to a student without letting go of the end of the yarn. The student who gets the ball of yarn tells his or her name and something good about himself or herself. Then the student rolls the yarn to somebody else, holding on to the strand of yarn. Soon students have created a giant web. After everyone has spoken, you and all the students stand up, continuing to hold the yarn.
Start a discussion of how this activity relates to the idea of teamwork -- for example, the students need to work together and not let others down. Questions might include the following: What is your name? Where were you born? How many brothers or sisters do you have?
What are their names? Do you have any pets? Pair students, and have each student interview his or her partner and record the responses.
Then have each student use the interview responses to write a "dictionary definition" of his or her partner to include in a Student Dictionary.
You might model this activity by creating a sample dictionary definition about yourself. Born in Riverside, California. No brothers or sisters. Have students bring in small pictures of themselves to paste next to their entries in the Student Dictionary.
Bind the definitions into a book, and display it at back-to-school night. Ask each student to write a brief description of his or her physical characteristics on one index card and his or her name on the other. Physical characteristics usually do not include clothing, but if you teach the primary grades, you might allow students to include clothing in their descriptions.
Put all the physical characteristic index cards in a shoe box, mix them up, and distribute one card to each student, making sure that no student gets his or her own card. Give students ten minutes to search for the person who fits the description on the card they hold. There is no talking during this activity, but students can walk around the room.
At the end of the activity, tell students to write on the card the name of the student who best matches the description. Then have students share their results. How many students guessed correctly? Patricia McHugh, John W.
Set up a circle of chairs with one less chair than the number of students in the class. Play music as the students circle around the chairs. When the music stops, the students must sit in a seat. Unlike the traditional game, the person without a seat is not out. Instead, someone must make room for that person. Then remove another seat and start the music again. You can play this game outside, and you can end it whenever you wish. Afterward, stress the teamwork and cooperation the game took, and how students needed to accept one another to be successful.
Reinforce that idea by repeating this game throughout the year. Danielle Weston, Willard School, Sanford, Maine Hands-On Activity Have students begin this activity by listing at least 25 words that describe them and the things they like. No sentences allowed, just words! Then ask each student to use a dark pen to trace the pattern of his or her hand with the fingers spread apart.
Provide another sheet of paper that the student can place on top of the tracing. Because the tracing was done with a dark pen, the outline should be visible on the sheet below.
Direct students to use the outlines as guides and to write their words around it. Provide students a variety of different colored pencils or markers to use as they write. Then invite students to share their work with the class. They might cut out the hand outlines and mount them on construction paper so you can display the hands for open house.
Then provide each student with five different-colored paper strips. Have each student write a different talent on separate paper strips, then create a mini paper chain with the strips by linking the five talents together. As students complete their mini chains, use extra strips of paper to link the mini chains together to create one long class chain.
Have students stand and hold the growing chain as you link the pieces together. Once the entire chain is constructed and linked, lead a discussion about what the chain demonstrates -- for example, all the students have talents; all the students have things they do well; together, the students have many talents; if they work together, classmates can accomplish anything; the class is stronger when students work together than when individual students work on their own.
Hang the chain in the room as a constant reminder to students of the talents they possess and the benefits of teamwork. Your school librarian might have a discard pile you can draw from. Invite students to search through the magazines for pictures, words, or anything else that might be used to describe them. Have students cut out their silhouettes, then fill them with a collage of pictures and words that express their identity. Then give each student an opportunity to share his or her silhouette with the group and talk about why he or she chose some of the elements in the collage.
Post the silhouettes to create a sense of "our homeroom. You can use such cards to gather other information too, such as school schedule, why the student signed up for the class, whether the student has a part-time job, and whether he or she has access to the Internet at home. As a final bit of information, ask the student to write a headline that best describes him or her! This headline might be a quote, a familiar expression, or anything else. When students finish filling out the cards, give a little quiz.
Then read aloud the headlines one at a time. Ask students to write the name of the person they think each headline best describes. Who got the highest score? It seems as if parents are contacted only if there is a problem with students. At the end of each grading period, use the home address information to send a postcard to a handful of parents to inform them about how well their child is doing.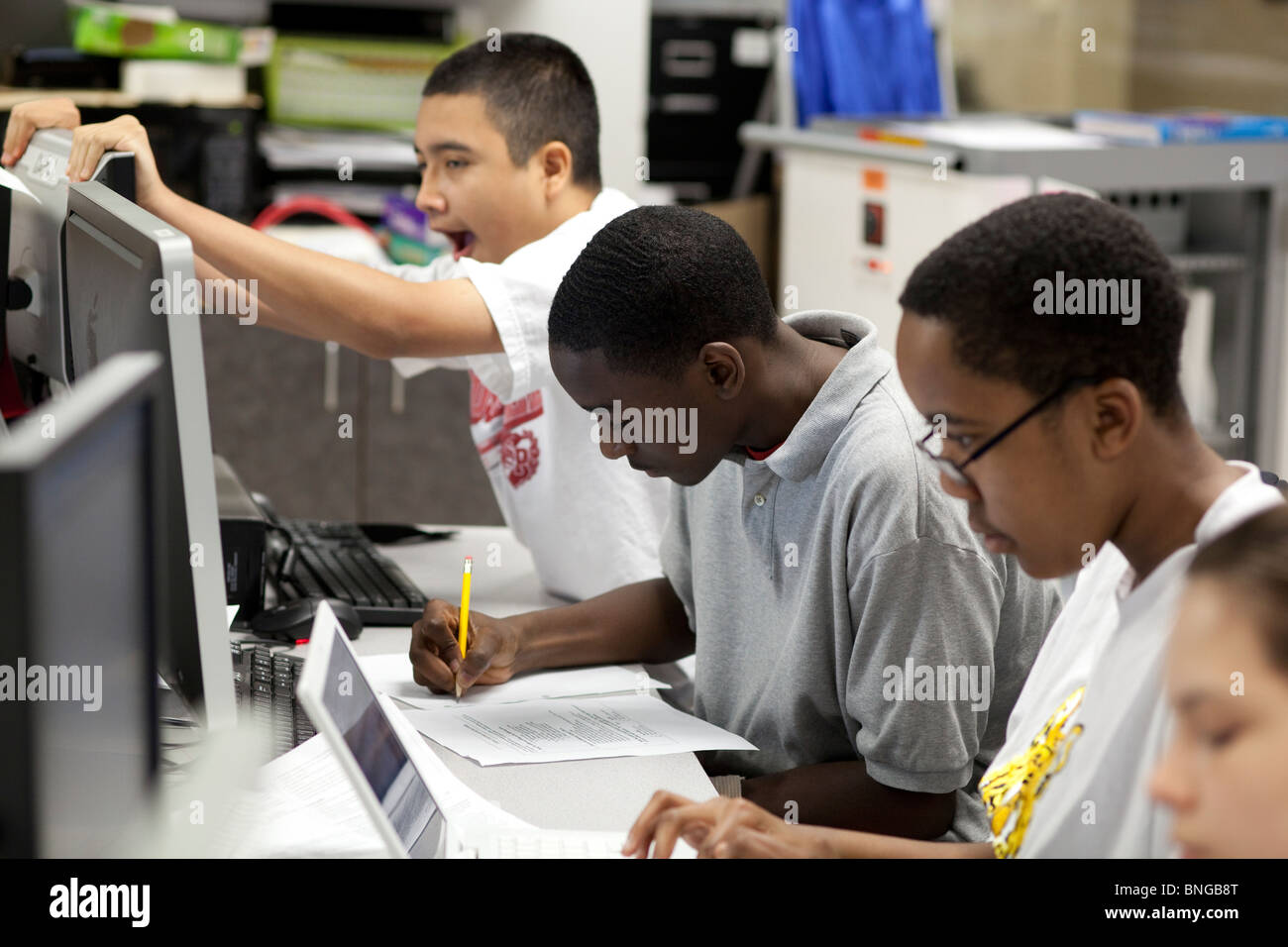 Main Topics